Join the fight! We are a tiny but relentless volunteer effort. Any amount helps and goes directly to our small legal team.
To donate to Chris' legal fund via Fundrazr,
please click here!
(Note that Fundrazr takes a 4% cut.)
If you prefer CashApp, use $Justice4ChristopherD
Feel free to contact attorneys Kent Gipson (816-363-4400) and Justin Bonus (347-920-0160) to donate to them directly.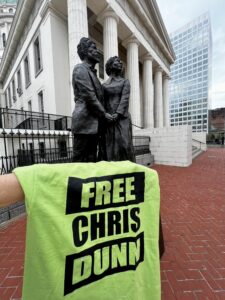 Show your support by ordering a t-shirt and taking a picture in front of your local courthouse! You could be featured on our web page. Get your "Missouri - Free Chris Dunn" t-shirt!

If you would like to reach the main person with the power to help, refer to the information below. If you're not sure what to say, feel free to use the suggested script. Per Chris' request, all contact with this office must be respectful and polite.

Kimberly Gardner, St. Louis Circuit Attorney (314) 622-4941. caocommunications@stlouiscao.org

 Suggested phone script (Feel free to use your own words):    
 "Hello. I'm calling about the Christopher Dunn case. Mr. Dunn needs your help. He has been in prison since 1990 for something he did not do. The only State evidence against him was the testimony of two witnesses, and both have recanted. Two years ago, a 25th Circuit judge ruled that Mr. Dunn meets the standards of innocence and no jury would convict him now, but refused to release him because of the Lincoln versus Cassady precedent. Please release Mr. Dunn or give him a new trial."  
Suggested email template: (Feel free to use your own words.)  
 "Dear Ms. Gardner,   
I am writing to bring your attention to the case of Christopher Dunn, and ask for your help. Mr. Dunn was sentenced to life without the possibility of parole for a crime he did not commit. He was only 18 years old when he was arrested and now he is 50. 
The State's case against Mr. Dunn rested solely on the testimonies of two young boys. Both boys, now men, have recanted and explained that they pointed the finger at Mr. Dunn simply because they didn't like him.     
After a 2018 evidentiary hearing, a 25th Circuit judge wrote an order stating that Mr. Dunn meets the standards for innocence and that no jury would convict him now. However, the judge declined to release Mr. Dunn, citing the Lincoln v. Cassady precedent, which states that a person who is found to be actually innocent cannot be released unless they are on death row.     
Mr. Dunn has been sentenced to death - but a long, slow, state-sanctioned death, rather than a quick one. An innocent person should be granted relief, regardless of their sentence. Lincoln v. Cassady is clearly unconstitutional. 
I am asking that you either release Mr. Dunn or grant him a new trial. An innocent person should not spend another minute serving an unjust sentence.     
Thank you for your time and attention."