This site should not be necessary. If the state of Missouri followed the rule of law, Christopher Dunn would have been released when the 25th Circuit judge issued an order stating that Chris meets the standards for actual innocence and that no jury would convict him now.
That didn't happen. So, we continue fighting to save his life. We don't have deep pockets. We don't have sponsors, high-powered connections, or a public relations team. We are ordinary people, but our fight to save an innocent man is extraordinarily important.
Christopher Dunn has maintained his innocence since his wrongful conviction in 1991. After Chris proved his innocence in a 2018 evidentiary hearing, the judge noted Chris' innocence in his September 2020 order. This should have been enough to free Chris, but because proving one's innocence isn't enough to regain freedom in Missouri (see Lincoln v. Cassady), he remains imprisoned today.
The Missouri Supreme Court refused to hear Chris' habeas corpus petition in August 2020, without providing a reason. The Attorney General's reflexive opposition to the petition cynically suggested that Chris pursue the avenue provided by new Missouri Statute 547.031, knowing full well that its office would fight tooth and nail against any such effort. 
Since then, Chris' family and legal team are focused on the final option available in Missouri to save Chris, and are seeking the public's support in asking St. Louis Circuit Attorney Kimberly Gardner to file a motion in support of Chris' innocence.
Ms. Gardner's support is Chris' last hope for exoneration and freedom.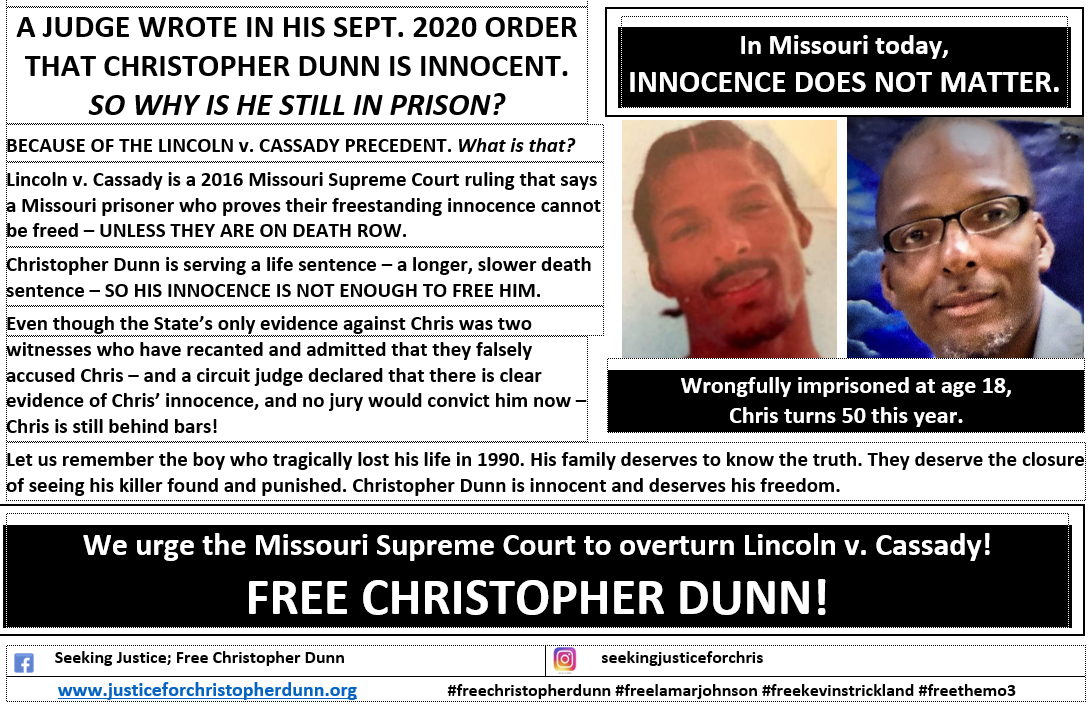 Justice Rally Flyer for Christopher Dunn